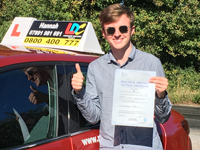 Dylan Feore
First Time Pass After Test Booster
I highly recommend learning to drive with Hannah. I passed first time after completing the test booster course. Hannah is a great instructor, she is patient, attentive and tailors the lessons to suit your development. I thoroughly enjoyed our lessons, as Hannah is very approachable and encouraging. I was a bit sad that we didn't have any more lessons after I'd passed. The test booster course was perfectly suited to my situation, having previous experience with other instructors and feeling relatively confident behind the wheel. It was great that the test is organised by the instructor, as this was a factor in not having taken the test sooner. The resources made available were also very useful. If you are looking to pass your driving test; learn to drive with Hannah.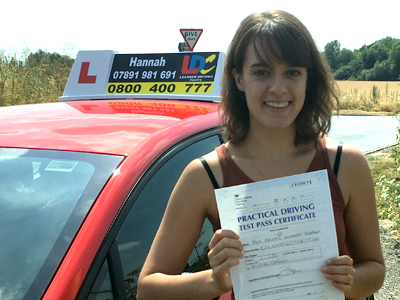 Abigail
Great Experience
I had a great experience learning with LDC, and passed after taking a 15 hour test booster course and a few additional lessons. I had previously done some lessons in a different area before taking a break, so this course was ideal to refresh my skills and get familiar with the roads. Hannah was a friendly and patient teacher, and worked with me to plan the lessons so I could get what I wanted out of them. She explained how to approach different skills and situations in a calm way and was always supportive and positive when explaining how to improve, which helped to build my confidence. The lesson prices were reasonable and in line with other instructors in the area, and by booking larger amount of hours with a course I was able to get better value for money. I also got to use the course book, which had lists of different skills you needed so you could check your progress and use them to help plan your lessons. Overall I would recommend LDC based on my experience, and have recommended Hannah to friends in my area who are looking to learn to drive. Thanks Hannah!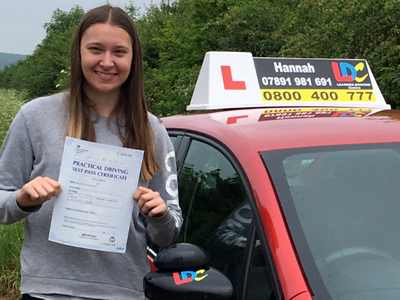 Kara
First Time Pass
I passed first time with my second driving instructor Hannah. I cant thank her enough for all the support and advice she has given me throughout our lessons. She is a positive, bubbly and friendly instructor who i would highly recommend to anyone! I found the LDC workbook was useful as it contained clear information on different topics. I also viewed a few of their You tube videos which helped me understand what was expected on the test day etc. Thanks again to Hannah for all the help!! :)