Testimonials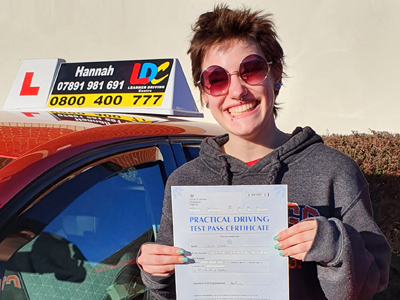 Louis
A Very Happy Pass
I passed first time with Hannah who was absolutely amazing. I learned something new every lesson which gave me something to focus on when driving with my mum before the next lesson. I always looked forward to the lessons and found Hannah to be super supportive and helpful with everything, she also made the lessons fun and found we could chat about so many things. Hannah was able to deal with my frustration when I got things wrong and got annoyed with myself, she was able to calmly go through things and made it much easier to get it right. I have and will continue to recommend Hannah to friends who want driving lessons as the whole experience was really enjoyable. So happy I passed first time, although sad I don't get to spend more time with you. Thanks again!!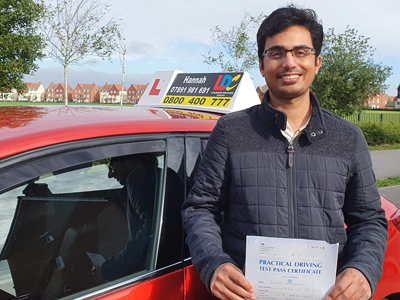 Sudhir
A Glorious Pass
I really enjoyed my driving lessons with Hannah. She created a relaxed and fun environment where I could slowly develop the confidence to be able drive independently. She didn't just tell me what I was doing wrong but gave me highly effective tips on how I could rectify them. From sending me informative tips and videos, accommodating last minute requests for extra lessons, to now helping me pick out my first car, Hannah's commitment to her students is truly remarkable and something that I appreciate greatly. I first contacted Hannah during the first lockdown and was on her waiting list for almost 7 months before I could actually start lessons. It has been totally worth the wait! Friendly, knowledgeable and very professional - I cannot recommend Hannah highly enough.
Adam
First Time Pass
I really enjoyed learning to drive with Hannah and can highly recommend her as an instructor. She is very patient and methodical: whenever I made a mistake she would get me to try and break down what went wrong and would suggest an exercise I could do to work on the fault. This meant that I felt like I was always getting better and my confidence really improved over time. Hannah is also friendly and easy to talk to which made it easy to discuss what types of driving made me nervous. Throughout my time with her, Hannah was very accommodating about changing driving lesson times and she made booking and moving tests simple and easy. In the end I passed on the first time, thanks Hannah!"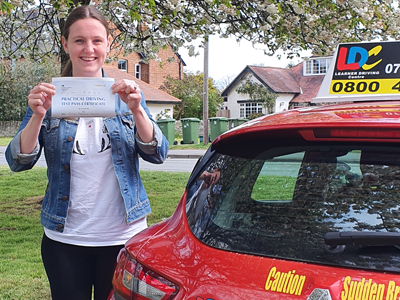 Claire
Passed first time after a long lockdown
Hannah has been a rock throughout my driving journey, we had a few bumps in the road due to lockdowns but Hannah always kept in contact and helping build that confidence. Hannah was amazing at explaining every single detail from my very first lesson up until my last, I was so nervous starting out this journey but Hannah soon put my mind at ease and made the experience enjoyable while learning a new life skill, even on test day she still managed to make me smile and laugh and make me enjoy it. I would highly recommend her to anyone wanting to start driving you won't be disappointed, I wish Hannah all the best, I will miss our chats and laughs we had along the way and the seriousness when we had to ☺️
Olivia
Driving after a long lockdown
After having lessons with 2 instructors previously and being almost 2 years into learning to drive with 2 failed practical test results, my confidence was very low and I was looking for an instructor to get me through my next test with a positive result and to help me have the confidence not only on test day but with driving after my test as well.
Hannah has been amazing on my journey to passing my test, with only 7 lessons 2 weeks before my test I passed! Hannah was able to help me gain my confidence and give me great advice for life on the roads as well as help me with what Examiners were looking for on test day. She is very engaging and will adapt her teaching methods to what makes sense to you as an individual so that you learn the way that suits you best. She is a very happy and supportive person who cares a lot about her students and their success and she will put in the time and effort to make sure that you feel confident in your abilities and that you maintain a good mindset throughout lessons and on test day itself. I found this incredibly helpful as it allowed me to believe in myself and my driving skills, not just purely through practise and lessons but having a positive mindset alongside this made a huge difference for me.
I could not recommend Hannah enough, and I wish I had found her sooner, If I did, I believe the process of learning to drive would have been much less daunting and a much quicker process for me personally.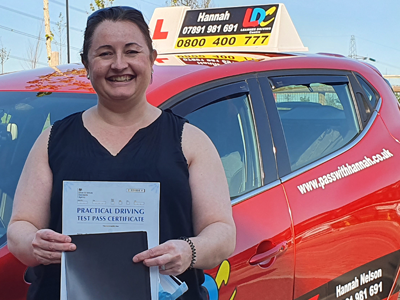 Carolina
Passing as a mature student has improved my self confidence.
I was really anxious about learning to drive at 45, I had never driven and the whole thing felt scary. I am anxious by nature, so I did a lot of research as I knew I wanted to find someone patient and kind - I've heard horror stories from so many friends about their instructors! Hannah is an amazing instructor, the perfect balance between friendly and professional. As a mature student I was working full time while working, and Hannah always offered flexibility to work around my work schedule. She has a great sense of humour and made the lessons a breeze - we laughed so much!! As a bonus, her military background means that she truly is an expert when it comes to driving. It's not just that she can drive - she actually has experience from the military driving in different terrains and types of vehicles. You always feel very safe driving with her. She really teaches you good techniques and you can tell she has a method: she plans the lessons to ensure you learn. She tells you all sorts of tips and tricks to make you a good, safe driver. In the lessons, you really feel she wants you to learn and be a good driver, she's patient (this was very important to me!) and doesn't mind explaining the same thing several times until you get it. As a mature learner, I really appreciated that!!
The LDC system really worked for me. I loved watching the videos online, as I learn better by watching tutorials. Having the LDC online portal was great, I used that all the time to prepare for the lessons and it was great to track my progress - you do really feel the benefit if you spend a little time reviewing the materials before the lesson. Also the LDC made it so much easier to prepare for the theory test. Having all your information in one single platform, easy to find and track, was very handy. I happened to be learning (and passed my test) right in the middle of Covid pandemic. Hannah took the whole Covid situation very seriously, ensuring I and all her other students would be safe, and kept me informed at all times of any government-mandated changes, which made it much easier than having to figure things out by myself. As a mature learner, I greatly appreciated how professional she is.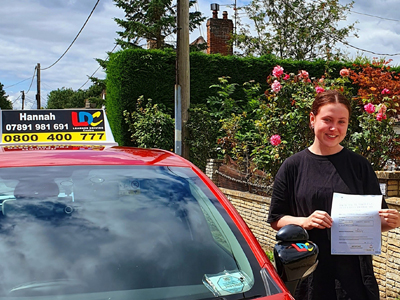 Courteney
Passed First Time with Zero Faults
I just want to start of by saying Hannah was an excellent instructor and I highly recommend LDC driving school. I was very nervous on my first driving lesson but Hannah quickly made me feel safe, she is a very friendly person and we got on very well which helped me feel more comfortable while learning to drive. Each lesson I learnt something new which boosted my confidence. LDC have a lot of videos online and the reviews for LDC driving school are very good. Thank you again Hannah for having the patience to teach me how to drive as this is one of the proudest things I have achieved. I am still so happy I passed with 0 faults!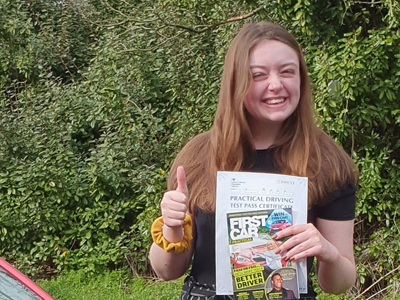 Jess
1st Time Pass
I highly recommend choosing Hannah as a driving instructor. When I first began I was so nervous but her kindness and patience really helped me to progress quickly. She made me feel at ease throughout our lessons, always chatting and joking with me and never made me feel awkward as some might feel being in a car with a stranger for two hours. She made me feel very safe even on the main roads as all though I felt in control of the car she was always ready and alert to help me if I struggled.
I managed to pass first time with Hannah and after hearing from my friends experiences with their other teachers this is not an easy thing to do. Her flexibility in the lessons allowed me to go at my own pace and choose specific areas of driving I struggled with. The resources she provided me throughout the lessons helped me massively as I much more of a visual and practical learner and these helped me to constantly refresh topics out of lesson.
I highly recommend Hannah to anyone at any stage in their driving experience and have done so with several of my friends. I am so lucky to have had her help and I can't thank her enough.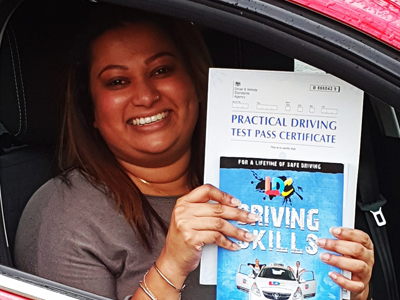 Rebecca
Surprised myself with Passing First Time
I passed my driving test few weeks ago with only 2 minor faults. I must say my driving instructor Hannah is the most kindest person you could ever meet and I couldn't have wished for a nicer person. I was very nervous and scared when I started my lessons but Hannah put me at ease from the first lesson and helped me to build my confident throughout. I couldn't thank her enough for everything she did for me to pass my exam in one go especially in a short time of two months. Thank you so much Hannah. I never thought I would pass in my first try and I couldn't have done it without you. I wish you all the very best and I would recommend Hannah to anyone.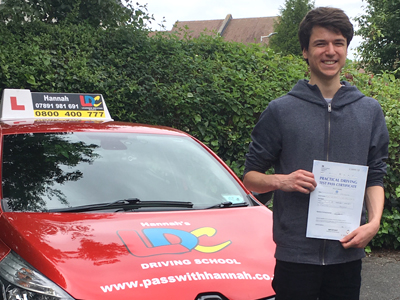 Alex
Passed 1st Time
Hannah has been an outstanding instructor for me, she gave me the confidence I needed and always told me how to keep safe. Thanks to her I was able to pass my test 1st time after only practising with her for 3 months. I strongly recommend her as a driving instructor as she will never let you down'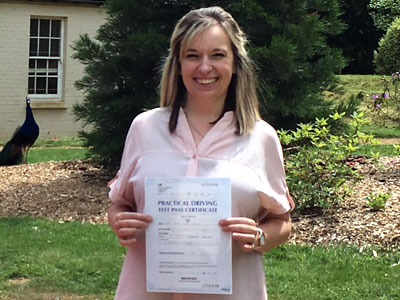 Kerry
Kerry finally conquered her nerves for a great pass
I originally tried to pass my test 6 years ago before my son was born but was unsuccessful and then never restarted due to husbands job moves with the military and low income. I then started working full time and was living in a remote area so decided I really needed to get driving. I found hannah from LDC on Facebook and after reading her information I decided to get in touch. Hannah was very professional and it was great she came to visit me at home and discuss the best package for me based on my driving history and affordability. Hannah was always on time sometimes early and always with a big smile and was very calm and encouraging. It took me 3 attempts to pass due to nerves but Hannah always boosted me up and didn't let me give up. Would highly recommend learning with hannah and LDC as she was patient, supportive and the additional information like the book, online and DVD were so helpful for me to continue learning at home and great for revising my theory. Thankyou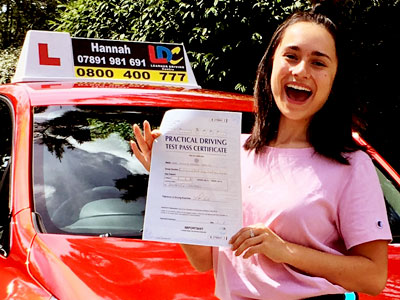 Olivia
Happily Passing
Hannah was a brilliant instructor, incredibly patient and understanding with my lack of confidence which she quickly helped to fix. The LDC work booklet was also incredibly useful, enabling me to revise sections and specific elements of the course prior to the practical lesson. Resulting in every minute of the lesson used effectively as we both knew what objectives I needed to work on. Hannah's successful method of having a review of the lesson and setting new goals for the next one was also a very helpful way to track my progress, identify strengths and weaknesses. I also appreciate how easily Hannah was able to work around my schedule, meaning I could have very regular lessons that suited me best. Hannah's ability to quickly adapt her teaching techniques to my at first, nervous mindset on driving was also very effective. Lastly, her relaxed and humorous character made each lesson incredibly enjoyable as I powerfully developed my driving skills. A huge thank you!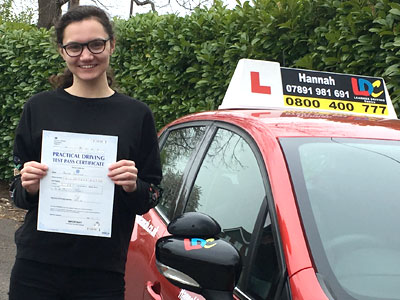 Blaise Fellows
A Happy Pass
I was lucky to come across Hannah's profile online, I read about LDC and the system. I found I was comfortable with the structures that are used. When I began driving I was very nervous and Hannah was so patient with me and always calmed me down. I looked forward to every lesson as I felt so comfortable with Hannah I also gained huge amounts of confidence, in myself personally and my driving. The LDC workbook really helped me understand my strengths and weaknesses. It also gave me a better understanding of the manoeuvres and road safety and using it to review every week also helped my confidence. Hannah is an amazing teacher and pushed me through every difficult moment I had and I would recommend her to anyone.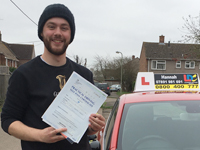 Jamie
Smashing test, passign with one fault.
There aren't many people who could deal with my stubborn ways when it came to learning to drive, but Hannah took a friendly, bubbly approach and managed to get me out of my bad habits in the relatively short 7 hours I spent with her before my test. She instantly puts you at ease and is understanding of the little mistakes, while helping you to understand what went wrong, why it's wrong and how you can improve, without being judgemental or pressuring. I genuinely don't think I would've ever been able to pass my test, especially with only one fault (My bad), without Hannah's professionalism, approachability or understanding. Thank you Hannah!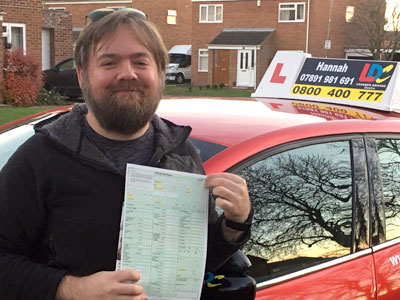 Edward Minnett
Enjoyed using the LD system and workbook
I am very happy with the quality of instruction I received from Hannah. It took some time for me to find the right instructor, but I am really glad I contacted Hannah. As a student who had foreign driving experience, Hannah adapted her lessons to focus on what I needed to practice most. Her instruction was indispensable when it came to taking the test. I found the LDC system very easy to follow. The workbook was particularly helpful. Having a clear outline of the instructional material allowed me to work through the lessons ahead of time and at my own pace. Hannah and I could then focus on driving during the lessons which was ideal. I would whole heartedly recommend Hannah to anyone who needs a driving instructor.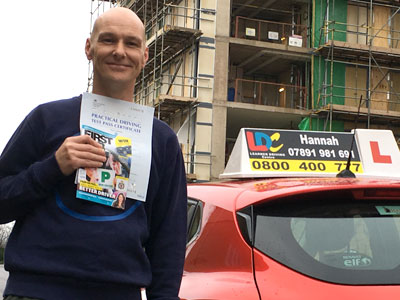 Thomas Martin
Passed First Time
Hannah's a very good driving instructor. I have learned very quickly how to drive and would recommend her to anyone. The system she used through LDC works very well and is very in-depth, the book and DVDs are very helpful too. If your looking for driving lessons use Hannah Nelson and LDC. Thank you again for helping me to pass my driving test.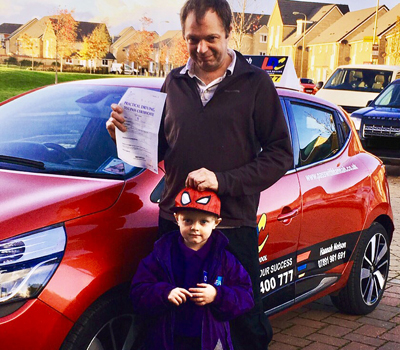 Gareth Morris
Passed with unique LD System
Being 40 years old it was vital I found the right driving school to pass with. Having looked at all the driving schools in Oxfordshire I came across Hannah's LDC driving school and liked the idea of the course material and the method that was used.
The way you work though the LDC workbook and watch clips of what is planned for the next lesson really helps focus on putting it into practice in the car. The pupil decides the lesson plan it's all done at your own pace. So you learn the manoeuvrers right and not just rushed through it. This is where the workbook and DVDs come in useful, to study them before the lesson, which means you spend more time driving and not parked up listening to theory.
From the first meeting with Hannah I felt at ease as choosing the right instructor is key. Hannah was always on time and ready for the lesson. While driving Hannah was very clear on what was going well and areas to improve on so I knew what to study before next lesson. It was always a relaxed and calm lesson which made it easy to learn and take more in so, progress was always made.
I would highly recommend Hannah and the LDC Driving School for anyone looking to learn to drive.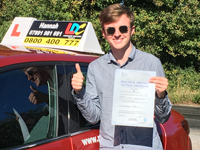 Dylan Feore
First Time Pass After Test Booster
I highly recommend learning to drive with Hannah. I passed first time after completing the test booster course. Hannah is a great instructor, she is patient, attentive and tailors the lessons to suit your development. I thoroughly enjoyed our lessons, as Hannah is very approachable and encouraging. I was a bit sad that we didn't have any more lessons after I'd passed. The test booster course was perfectly suited to my situation, having previous experience with other instructors and feeling relatively confident behind the wheel. It was great that the test is organised by the instructor, as this was a factor in not having taken the test sooner. The resources made available were also very useful. If you are looking to pass your driving test; learn to drive with Hannah.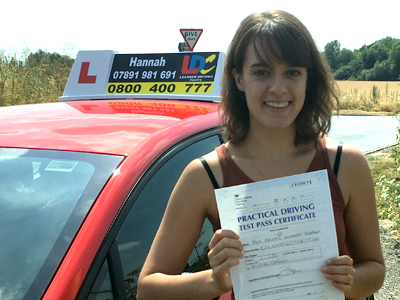 Abigail
Great Experience
I had a great experience learning with LDC, and passed after taking a 15 hour test booster course and a few additional lessons. I had previously done some lessons in a different area before taking a break, so this course was ideal to refresh my skills and get familiar with the roads. Hannah was a friendly and patient teacher, and worked with me to plan the lessons so I could get what I wanted out of them. She explained how to approach different skills and situations in a calm way and was always supportive and positive when explaining how to improve, which helped to build my confidence. The lesson prices were reasonable and in line with other instructors in the area, and by booking larger amount of hours with a course I was able to get better value for money. I also got to use the course book, which had lists of different skills you needed so you could check your progress and use them to help plan your lessons. Overall I would recommend LDC based on my experience, and have recommended Hannah to friends in my area who are looking to learn to drive. Thanks Hannah!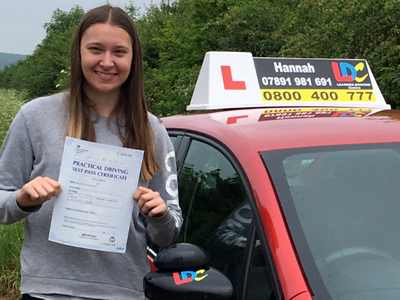 Kara
First Time Pass
I passed first time with my second driving instructor Hannah. I cant thank her enough for all the support and advice she has given me throughout our lessons. She is a positive, bubbly and friendly instructor who i would highly recommend to anyone! I found the LDC workbook was useful as it contained clear information on different topics. I also viewed a few of their You tube videos which helped me understand what was expected on the test day etc. Thanks again to Hannah for all the help!! :)
Call today on 07891 981 691 or Email me to find out more
If you have any questions or to book lessons today, feel free to contact me