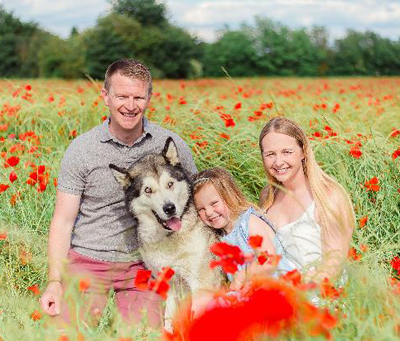 About me
Hi, I'm Hannah. I am a fully qualified Government Approved Driving Instructor (ADI).
I live in Abingdon with my husband, six-year-old daughter and ten-year-old Alaskan Malamute, (my first baby). Before becoming a driving instructor, I served 17 years in the Army. I served in Germany, Iraq and Afghanistan. I have worked in Logistics, supplying voice and data communications and support. I trained as an instructor in Battle Field First Aid and Off-Road Driving. I planned and ran regular training courses for new drivers to learn and gain skills in defensive driving, on and off road.
I have driven in a many countries, over a vast variety of terrains and difficult territories, and in a multitude of different vehicle types.
I have interests in Judo and Netball. I'm very active, and enjoy being a spectator and participating. As a family we enjoy bike rides, swimming and family walks with the dog.
I became a driving instructor to pass on my knowledge and skills onto new drivers. I love teaching and seeing the results. One of my favourite things about this job is to see someone pass their test, when they thought it would be too difficult for them. Building their confidence and skill set and assisting with their life goals is very rewarding.
I was fortunate to be trained by LDC in the latest adult coaching and training techniques, so you can be assured the training I give will be of the highest standard.
I chose to work with LDC because every learner is different and the unique LD System allows for flexibility and learning at the students rate and style. I aim to ensure every lesson is fun to learn and enjoyable, whilst making productive progress through the system. I conduct my lessons in a calm, friendly and relaxed manner. I know from experience a fun lesson is a lesson that is remembered, and this will ensure faster learning and retained information.
I hope this gives you a brief insight into me, and I look forward to hearing from you to discuss a free, no obligation home visit and plan for your future driving lessons.
Call today on 07891 981 691 or Email me to find out more
If you have any questions or to book lessons today, feel free to contact me